In the past quarter, I've replaced the boot drives on my three primary notebook PCs with el-cheapo ($149) OCZ-3 Agility 120 GB SSD drives. In turn, that has left me with three 500 GB 2.5″ drives that I can still use, but no longer want for primary notebook HDs. That left me casting about for a solution to put these babies back to work at minimal expense with maximum results. Here's what I found to meet my needs: a 5.25″ drive bay that accommodates four 2.5″ drives in the standard form factor, and supports both SAS (Serial-Attached SCSI) and SATA drives in a single, heavy-duty brushed aluminum enclosure. It's available on Newegg for a modest $55, and on Amazon for $60. Here's an introductory photo of the device, straight from the manufacturer's Website: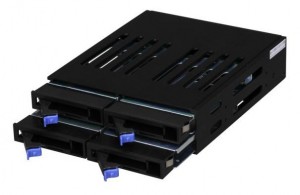 This baby is solidly built of medium-weight brushed aluminum that provides a sturdy enclosure for up to four hot-swappable 2.5″ drives. I only had three additional SATA ports open on my test system's motherboard (a Gigabyte P43-ES3G Socket 775) so although I mounted four drives in the enclosure (I also had a 250 GB 7,200 RPM Seagate drive lying around as well),  I have to swap two of the drive bays around to access the fourth drive (while losing access to the third as a consequence). Works like a charm, though, and very handy. I'm using these drives as project containers for different books, customer projects, and legal cases, so it makes a nice way to keep things separate, while also making them easier to find when needed. It's so handy I could even wish for the ability to buy extra drive sleds for this rig, but it takes only a minute to remove one drive and emplace another in any given sled, so I can live with this set-up quite well as it stands.
If you've got extra or unused 2.5″ drives lying around (2 or more would be necessary to justify the outlay for the enclosure), this might also be a good fit for your needs, too. For me, it is a welcome addition to my storage arsenal! Couple this enclosure with a nice 4-way RAID controller card (like this $90 HighPoint RocketRAID 2640X) and you can put a tasty RAID unit together on a system with an open PCI-e x4 (or bigger) port. Fooling around with something like that is going to be my next project. And when 1 TB (or bigger) 2.5″ drives dip back below $100 a pop (best deal I can find right now is about $120 for a SpinPoint 2.5″ 5400 RPM drive), it may just be worth a try as the "little NAS that could!" More on that later, I hope!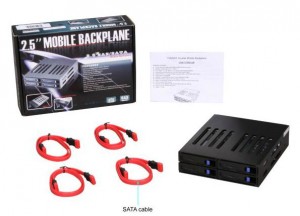 FWIW, I've also posted a mini-review of this product at Newegg where I had a "Homer Simpson" (Doh!) moment in looking over other people's reviews of this unit. It is absolutely and positively a great way to mount SSDs in a desktop, especially for those of you lucky (and extravagant) enough to use more than one SSD in such a system.
SIDE NOTE: I also learned yesterday that at least some SSDs make SMART disk temperature info available, by checking out the Temperature Monitor widget for my MacBook Air 13″ (the older Core Duo model with a 256 GB SSD). This tool reports the SSD temperature range in that cramped and tight enclosure at a relatively balmy 27 – 32 °C despite the lack of active ventilation of any kind. I'm a little disappointed that the otherwise excellent CrystalDiskInfo for the PC has not yet incorporated temperature readings in its capabilities for SSDs (or perhaps to wonder if some SandForce SSD vendors are electing to omit reporting such information for SMART data collection). So far, I've checked PC SSD drives from Samsung (SuperTalent), OCZ, and Intel, and am getting no temperature data from any of them.