Anybody who's followed my Windows experiences and commentary already knows I think the Sysinternals guys (Mark Russinovich and Bryce Cogswell, primarily, but also a host of others over the years) hung the moon when it comes to great tools and utilities. I was recently pondering how to get over the "What did I forget?" hump in finally upgrading my primary desktop from 4 to 12 GB of RAM, and thus also from Windows 7 Ultimate 32-bit to its 64-bit counterpart, when my research led me to their free tool named Disk2VHD.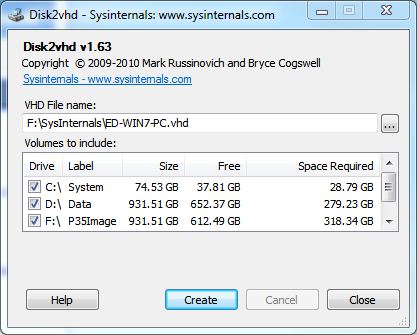 All you really need to do to use this tool is to download it, then fire it up on the Windows desktop you'd like to turn into a VHD, turn off selections for everything except the system/boot drive (C: in this case, and for most other users, I suspect), then click the Create button. The tool lets you specify a target drive for the resulting VHD, where you can access it using Microsoft Virtual PC, Virtual Server, and even Hyper-V. Once you've run the utility, the window informs you that "Disk export to VHD completed successfully." From there on out, you can use the VHD instead of the native runtime if you like, inside any virtualization tool that "understands" the VHD format (I've used it inside Virtual PC on Windows 7, and Hyper-V on Windows 8).
It's a perfect way for me to keep my old 32-bit Windows desktop around, even after I've upgraded my system to 64-bit Windows 7, or on my various Windows 8 test machines. What a great tool!