With the latest version in the Canary Channel, Windows 11 Dev Home goes drag'n'drop with dashboard widgets. I read a tweet about it from Kayla Cinnamon this morning. And sure enough, once I'd downloaded the latest MS Store updates, it worked as advertised.
Details for Dev Home Goes Drag'n'drop
In this utility, the dashboard is where you can pin widgets. Once that little detail is taken care of, it takes version 0.301.198.0 or higher to exercise the drag'n'drop capability. If you look at the initial lineup in the lead-in screencap you'll see this widget order: CPU-GPU-Network-Memory. Just for grins the screencap below shows Memory in first position, with the original CPU-GPU-Network order still intact (just shifted one position right).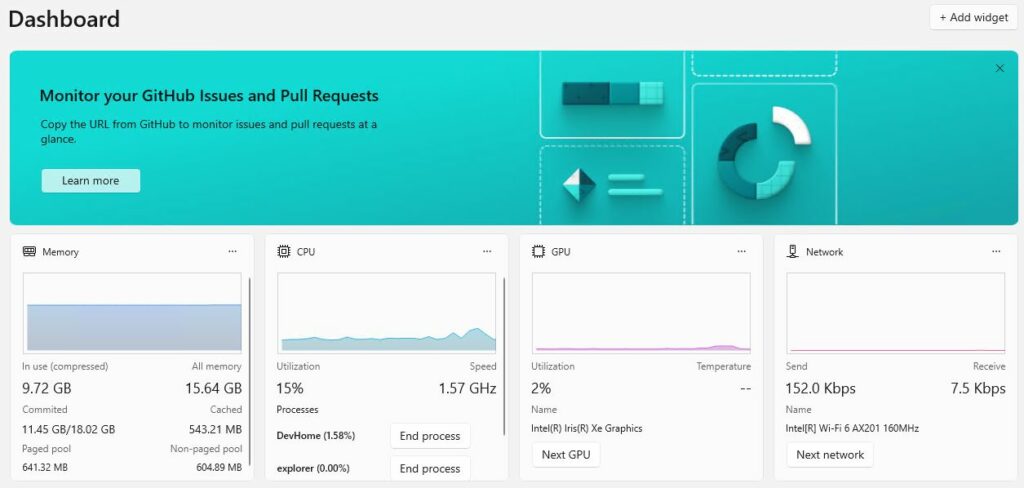 To institute the new order, I dragged Memory from the rightmost to the leftmost position. [Click image for full-sized view.]
There's a Blog Post for That
For all the details about version 0.3, see the July 19 Windows Blogs post entitled "Dev Home Preview 0.3 Release." In addition to this visible and welcome change, it also mentions various bug fixes and a raft of "Miscellaneous improvements." There's also a handy link to the Dev Home docs site that's worth following. Good stuff, all the way 'round!