Ouch! Take a look at the error list from one of my two Dev Channel PCs (for January 21). You can't help but notice 6 of 7 errors relate to backgroundTaskHost.exe. Ditto for how lousy the experience index remains (under 4 all days showing). Indeed, Dev Channel Build 22535 throws regular backgroundTaskHost.exe failures on both of my test PCs. I've reported it to Feedback hub, and am hoping somebody's looking into it.
What to Do When Build 22535 Throws Regular backgroundTaskHost.exe Failures
Looking around online, I don't see much by way of relief for workarounds or registry hacks. Here's some representative detail from Reliability Monitor, from which I'll point out recurrent elements: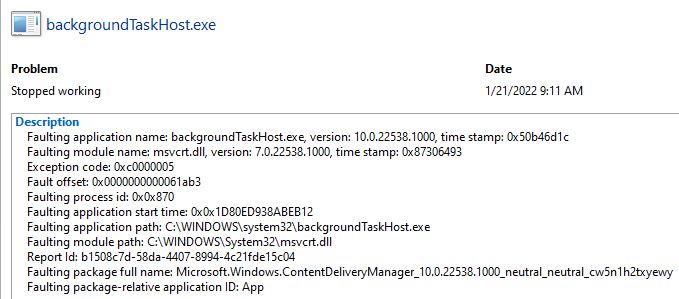 Detail on these errors from ReliMon is more alike than different
Common elements include:
Exception Code: 0XC0000005
Application path: C:\Windows\System32\backgroundTaskHost.exe
Faulting module path: C:\Windows\System32\msvcrt.dll
Faulting…full name: includes ContentDeliveryManager
Understanding the Error
The error code, often abbreviated 0X5, when checked in the MS Error Lookup Tool returns status value: ERROR_ACCESS_DENIED. The same thing comes up in the System Error Codes for values 0-499. According to the WikiFixes Ox5 page, this may be caused by a system component or application malfunction or corruption. In this case, I'm looking at backgroundTaskHost.exe and msvcrt.dll (part of the MS Visual C++ runtime and compiler) as potential culprits.
Having run both disk ... /restorehealth and SFC /scannow on the affected PCs, I don't think the .exe or the .dll files are damaged or corrupted. My best guess is that something is off with the build itself, and that MS will have to find and fix the problem. Funny thing is, my 22535 builds appear to work well otherwise, and don't manifest obvious runtime issues or problems. Interesting, eh?
Let's see what happens when word of this gets out further. I'll keep you posted as things change.