Woo hoo! FINALLY, MS announces it "begins rolling" something out and I get a copy.  As the Windows 11 Beta Channel gets redesigned NotePad, it shows up in my MS Store updates this morning. The app itself appears in the lead-in graphic. Just below, see the tweet to @WindowsInsider that announced this "all Windows Insiders" release.
If Beta Channel Gets Redesigned NotePad, Then What?
The new version of Notepad shows up in the Start menu as an app. This is different from the notepad.exe version that's still available in %Windir%\System32 by default. You can see the difference in the title bar for the app in the lead-in graphic: it includes the word PREVIEW in all caps. Of course, this version supports the "dark theme," whose enabled setting also appears in that same screencap as well.
Because I've so often been on the outside looking in when MS announces an app or feature in rollout mode, it's wildly exciting to get in on this first thing. Of course, Brandon LeBlanc's tweet does say that this rollout includes "all Windows Insiders in the Beta Channel." So I expected to see it, and indeed, it showed up.
Does that make me any kind of special? Nah, but it's still exciting anyway. That said, except for the dark theme, and a reworked and more visually effective font manager, I don't see any differences between the exe and app versions of Notepad just yet. But they're bound to appear, so stay tuned.
In the meantime, I'll just revel in the chance to play with my new toy along with everybody else, thanks. Cheers! The concluding screencap shows how the app version of Notepad appears in the Start menu, just for grins…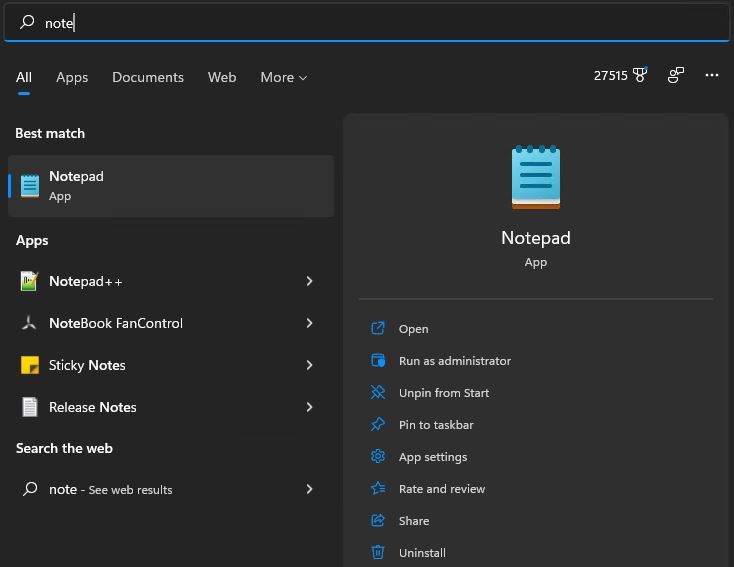 The new app version labels itself as such in the Windows 11 Start menu, as you can see.