Last Thursday (Jan 27) I wrote about speculations that upcoming updates planned for February might come as an "Experience Pack." Over the weekend,  Paul Thurrott opined on another missed Windows 11 Experience update. Preview Update for Windows 11 (KB5008353) includes settings changes for the logged-in Windows user's account. It's called "Your Microsoft Account."
What Makes This Another Missed Windows 11 Experience Update?
In his story, Thurrott observes — and quotes from — an October 2021 announcement. Therein, MS promised changes for "Your Microsoft Account" in Settings.  They would arrive via upcoming Online Service Experience Packs. Ha! Not happening yet, apparently. The first such change appeared in KB5008353 on January 25 in a conventional CU.
But it's just a small incremental change. Other changes should follow. Perhaps one of them might will arrive in an Experience Pack? In the MS October item, the newly reworked YMA looks like this (mine is the lead-in graphic for this story):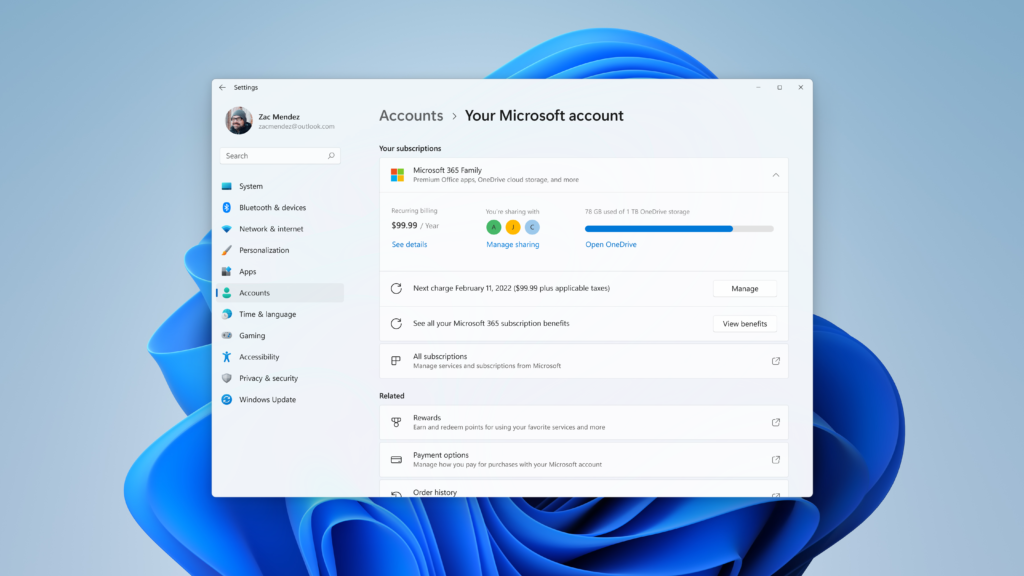 Here's what MS promised in October; what I see on my test PC appears as the lead graphic above [Click to see full-sized].
Yet Again, I'm Not an Early Arriver
This may be another gradual feature rollout. And apparently, I'm not in the first group of recipients. My "Your Microsoft Account" still remains unchanged. Aside from being unsurprised, I'm curious to see how long it takes for the new feature to make its way into general distribution. Stay tuned: I'll keep you posted.
And remember, there's always something odd or interesting going on here in Windows World. This is the kind of thing that keeps me intrigued and engaged. Thus: never a dull moment here at Chez Tittel. Thanks also to Mr. Thurrott for bringing this missed opportunity to my attention. Good stuff!