Oho! Yesterday was Patch Tuesday for July. Thus, I've been working through my stable of PCs, applying updates as I can. On my Ryzen 5800X Windows 11 desktop, I noticed something new and mysterious. Its MUC (Microsoft Update Catalog) entry provides the lead-in graphic for this story. Upon conducting research, this A-Volute software component mystery solved itself immediately.
How Is A-Volute Software Component Mystery Solved?
As with most such things, a quick trip to Google helps point me in the right direction. It turns out that A-Volute provides drivers for the Asrock B550's audio circuitry. This also includes support for an Nh3 Audio Effects Component. It pops up under Software Components in Device Manager: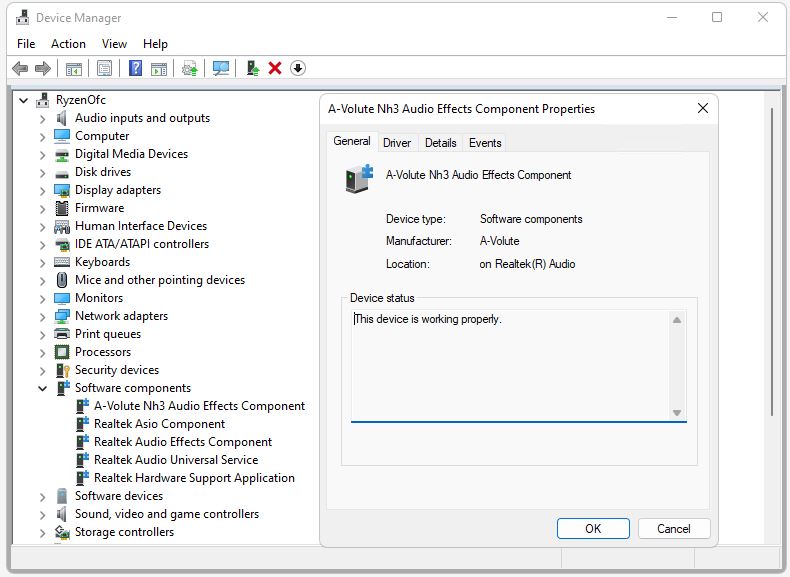 Googling online points me to a Realtek-related (Nahimic) audio driver, with matching entry in DevMgr. [Click for full-size view.]
I first found a credible mention of this at TenForums.  It appears in a thread on which I myself have been active. ( It's entitled "Latest Realtek HD Audio Driver.") Next, I find an entry named "A-Volute Nh3 Audio Effects Component" inside Device Manager. Presto! That convinces me the mystery is no longer unsolved.
I like to run things down when something new shows up amidst Patch Tuesday updates. It came along for the ride because MS  provides drivers as well as OS and other related updates. In most corporate or production IT environments, this doesn't happen. Why not? Because untested drivers pose too many potential problems to simply let them through on their own.
Deconstructing Windows Mysteries
In general, when something new or unexpected shows up in Windows, it's worth the effort to identify it. In most cases, it will be benign — as it was with this item. But sometimes, the mystery might deepen. Or it might even point to something malicious or malign. That's when remediation comes into play. I'm happy that wasn't needed this time. I'll still keep my eye on new stuff going forward, though. One never knows when something wicked might this way come.