It's over … for now, at least. That's right: the Build 25267 announcement states "This will be our last Dev Channel flight for the holidays." Hence my title for today's post: 25267 last 2022 Dev Channel Build. I must say it went pretty smoothly, too: it took under half an hour from start to finish: download, GUI and post-GUI install, and thence to the desktop. Good stuff!
If 25267 Last 2022 Dev Channel Build, Then What?
Enjoy the holidays, I guess. According to the change log, the only noteworthy element is "more rounded corners" for the expanded search results obtained via the taskbar's search button. The lead-in graphic shows what that looks like. AFAICT, it's no biggie. Note: I had to fiddle with the screen cap (and blew it up to 150% for improved viewability) so it's a little fuzzier here than in "real life."
Poking Around Behind the Scenes
Just for grins, I took a look at the size of Windows.old after this latest upgrade, to get a sense of how big a Windows 11 image is nowadays. On both of my test machine, it came in just over 23GB in size. (One PC is a Lenovo X12 Hybrid Tablet, with 11th Gen i7-1180G7 CPU, 16 GB RAM, 1 TB SSD; the other is a Lenovo X380 Yoga, with 8th Gen i7-8650U, 16 GB RAM, 1 TB SSD.)
It used to be conventional wisdom that a Windows install required 20 GB of free disk space. Now, it looks like 25 GB is probably a safer general guideline. Interestingly, the Disk Cleanup utility reports the size of Previous Windows installation(s) as 15.4 GB, even though a properties check on Windows.old (Build 25262) returns the aforementioned sizes. Cleanup takes a little while, too: about 4 minutes on each test PC or thereabouts.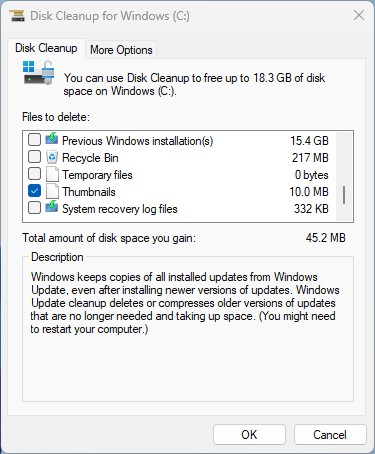 Note the reported size here is about 9 GB smaller. Interesting…
Marching into 2023
It's still 17 days off, but 2023 is coming. I imagine we might see resumption of regular flighting the week of January 9. But heck, it's been a busy, busy year for Windows 11. I count 32 Builds in Update History starting from March 21, 2022. And while I've encountered (and reported) occasional issues along the way, most have been minor. And none have stopped me from tracking along with each new Build as it's emerged. I can only hope next year goes equally well.