Some Windows users are purists by deliberate choice. Given the option of a Microsoft and a third-party too, they'll take the MS route every time. I am no such purist. I appreciate good tools, whether from Microsoft or another (reputable) source. Thus, I'd like to observe that the GitHub project WhyNotWin11 offers PC Health Check Alternative. Indeed MS has temporarily taken down its tool. PC Health Check is available only from 3rd-party sources, such as TechSpot right now. Thus, WhyNotWin11 has the current advantage.
Why Say WhyNot11 Offers PC Health Check Alternative?
Though PC Health Check has been out of circulation for a week or so, WhyNot11 got its most recent update on July 3. Visit its Latest Release page for a download (version number 2.3.0.5 as I write this). You can also update the previous version 2.3.03 by downloading the latest SupportedProcessorsIntel.txt file and copying it over the previous version in the %Appdata%\Local\WhyNotWin11 folder.
Note: on my PC, that's
C:\Users\\AppData\Local\WhyNotWin11\SupportedProcessorsIntel.txt.
WhyNotWin11 Is More Informative, Too
This story's lead-in graphic shows the information that the third-party tool displays about target PCs. It provides a complete overview of which requirements are met (green), which aren't listed as compatible (amber), and which are missing or disabled (red). This is more helpful than the output from PC Health Check. See it output below: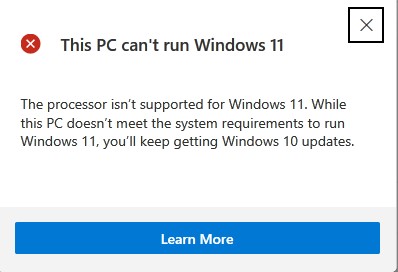 PC Health Check only briefly explains part of what's at issue, and tersely at that.
While the message above does explain the "the processor isn't supported," it also fails to note the absence (as I know it to be on this PC) of a Trusted Platform Module (2.0 or any other version). WhyNotWin11 notifies users about both conditions directly and obviously.
IMO, easy access and operation, and more information about the target PC all make WhyNotWin11 a superior choice over PC Health Check. At least, for the purpose of finding out why a machine will (or won't) upgrade to Windows 11. PC Health Check does offer other capabilities that users may find helpful, including (questionable) info about backup and synchronization, Windows Update checks, storage capacity consumption and startup time. I'm not arguing against use of the tool, when it returns to circulation. I'm merely suggesting that for the purpose of evaluating PCs for Windows 11 upgrades, WhyNotWin11 does a better job at that specific task.