In the past two weeks, I've set up half a dozen PCs, mostly in the wake of clean installing or upgrading them to Windows 8.1. Along the way, I've encountered numerous software elements that seek to get users to install additional software programs so they can get access to sometimes essential plug-ins, programs, and other stuff.
To be more specific, I've encountered the Ask toobar and search replacement items along with adding Java to those machines, as well as the AVG toolbar and search tab insertion into most Web browsers (which means Chrome, IE, and Firefox on my production PC, and also includes Safari and Opera on other machines as well) for Adobe Flash player (here's a whole list of vendors who include the AVG Toolbar as part of their product installs).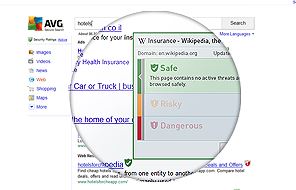 Booting the Secure Search tab in Chrome proved to be quite an effort.
I got stuck in a particularly nasty uninstall problem with AVG Secure Search and Chrome, in fact. I used Revo Uninstaller to get rid of the installed elements, and then had to go into the Web browsers to root AVG Secure Search out of their defaults and settings, one at a time. My issue with Chrome persisted until I realized that the "On Startup" item in Settings provides the ability to add multiple tabs when the program starts up. That was where the remaining invocation of AVG Secure Search remained untouched and unstopped, until I figured out I had to manually delete that entry from that part of the browser configuration.
I understand that companies often partner up when offering free and popular or widely-used software to the public, and permit third parties with money to spend on purchasing installs who feel like they have something to gain by paying to come along for that ride. But what I don't understand is why some of those third parties feel like they have to resist user attempts to avoid such maneuvers, sometimes to the point of making such installs feel more like drive-by malware than like legitimate commercial software.
I have long regarded AVG as among the best of the free malware protection makers, and their consistently high ratings from Virus Bulletin, PC Magazine, and so forth indicate that their malware suite is decent software. I am dismayed that they would use their knowledge of how software hides from users against the very users they so ardently seek to protect.
I feel the same way about any tagalong items that don't clearly advertise their presence and provide clear, obvious, and usable opt-out mechanisms so users don't end up installing software on their machines that they don't really want. I don't exactly love the idea of having to watch installers closely at all times on vigilant lookout for opt-out messages when they appear, either, but it definitely beats having to take the extra software as a consequence of the software you want, and then having to uninstall and clean up after the unwanted stuff manually after the initial install is ended.
Sigh.