A couple of months ago, entirely out of the blue, I got an email from a representative of Inateck, an apparently Taiwanese company that does business as "F&M Technology" in both the USA and Germany. It informed me about the company's range  of 2.5″ drive enclosures, described on the product category page as "Tool Free USB 3.0 HDD Enclosure." After some additional email back-and-forth with that person, I found myself in possession of two different and related products from Inateck:
1. One instance of product FE2010, an "Ultra slim 2.5 inch HDD Enclosure" (list price $19.99, but I can find suppliers for this item only on eBay at prices from $17.27 to 22.14)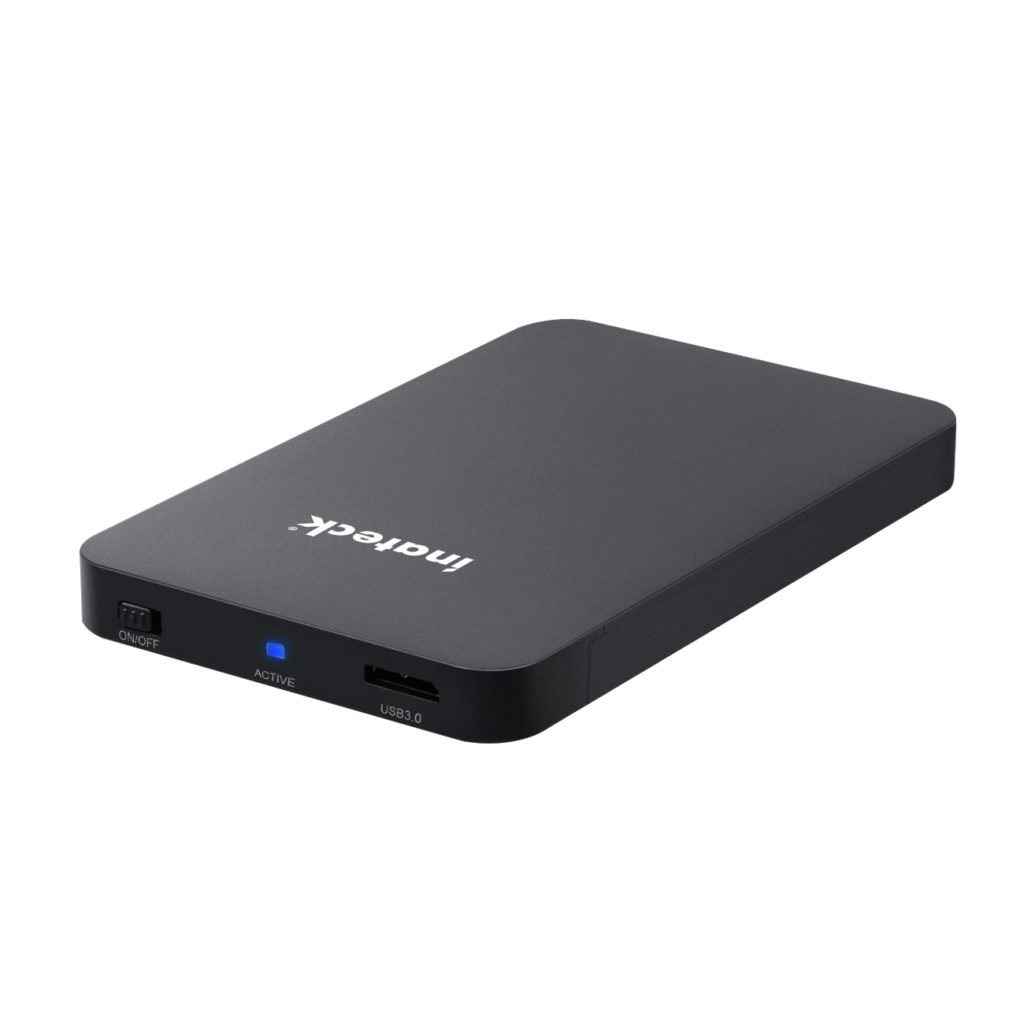 2. One instance of product HPD-BU, a nice little ballistic nylon zip up case in which to store item 1 (available at Amazon for a mere $6.99).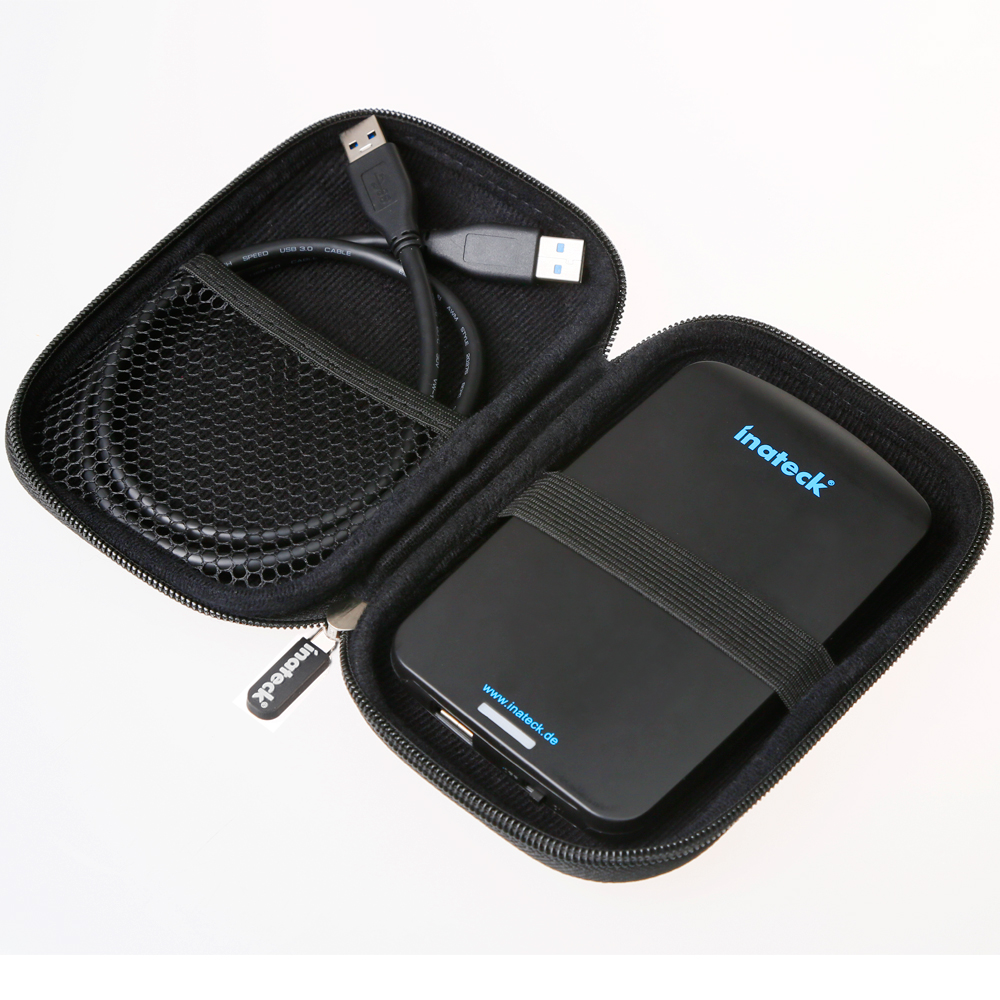 What's the Deal Here?
I'm always on the lookout for good deals on helpful hardware, especially for taking work on the road with me. I've purchased various 2.5″ and 3.5″ drive enclosures over the years, usually so I can pack 'em up and take 'em with me when I'm out the door on business. Often this means setting up in a conference room at a law or technology firm, or working in a hotel room somewhere (one time, this meant burning extremely expensive online minutes on a Disney cruise ship in the western Caribbean). That's why I'm so interested in compact mobile gear that's easy to set up and use, and as portable as possible.
What I really, really like about the Inateck enclosure (FE2010) is that its tool-free design is neither flimsy nor weak. It's made of plastic, but the plastic is fairly thick and sturdy. A snap-together cover slides on rails away from the circuit area on the main half of the assembly where the drive plugs into a standard SATA power and data connector. It is easy to insert and remove using just finger pressure, but the device holds up well when transported. I took it with me on recent out-of-town trips to Dallas and Houston with family, for use with my Surface Pro 3 hybrid tablet. It behaved quite nicely on both jaunts, despite inexpert help from some enthusiastic tweens in carrying luggage and the computer bag and with device set-up and teardown. The enclosure also comes with a short (~12″) USB 3.0 cable with a standard USB Type A connector on one end (for plugging into a computer) and a compact, proprietary USB connector on the other (for plugging into the drive enclosure).
The incredibly cheap carrying case (HPD-BU) is a real bargain at $7, and accommodates the drive enclosure perfectly. It offered excellent protection for my traveling rig while on the road and is well worth its cost. It features a hard shell design that offers added rigidity to safeguard its contents from knocks and drops.
I purchased my last 2.5″ mobile drive enclosures from Newegg in 2013. They're made by Vantec, model NexStar 3, and are old enough to feature USB 2.0 with eSATA for higher-speed connections. As I recall, I paid about $10 for them and they included a micro-USB to type A cable (with a second type A connector for extra power on laptops that may offer only limited USB power on a single connection) along with a flat sided zip-up ballistic nylon case in black. A similar USB 3.0 model is available at Newegg, also for $19.99 (discounts sometimes available: right now price is $2 lower), and includes no case.
All in all the Inatek FE2010 offers good functionality, easy access and use, and is a reasonably sturdy traveling drive enclosure. If you can find a good deal from a reputable retailer (or eBay merchant), it's definitely worth buying. Don't be flim-flammed by the company's performance claims on this device, though: I believe they're comparing USB 2.0 to 3.0 performance. I found no speed difference between using the same drive between my Thermaltake Superspeed 3.0 drive caddy and the Innatek enclosure, both plugged into the same PC and the same USB port.