Here's an interesting tidbit to ponder. The Insider Dev Channel 21354 announcement included the information shown in this story's lead-in graphic. To recap: it says that Snipping Tool and Snip & Sketch have been packaged together. Going forward, they will now get updates through the MS Store. Hence my title: Store Gets Snipping Tools with Build 31354.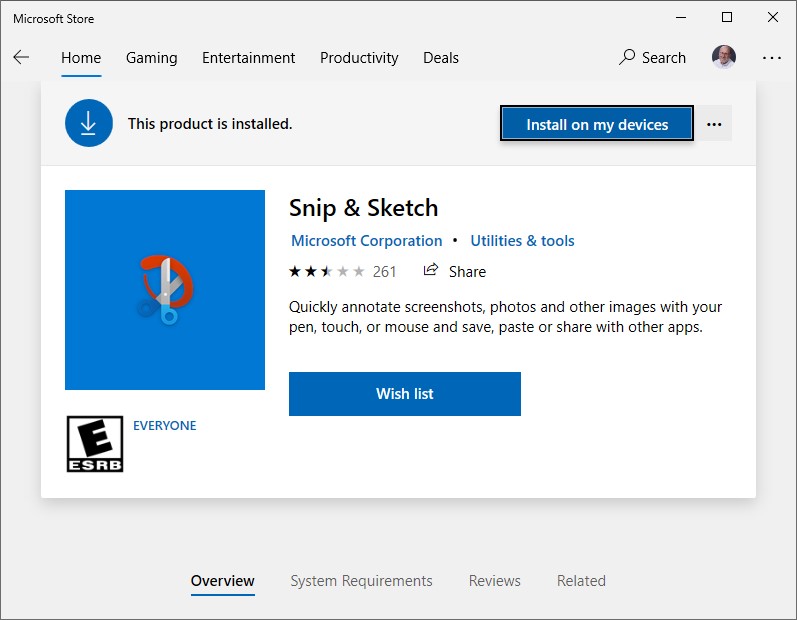 Sure enough: I visited the Store on one of my Dev Channel test PCs after the upgrade. As you can see in the preceding image, Snip & Sketch now appears there. (If you check update history in the Store, you'll see it's getting updates via the Store now, too.)
If Store Gets Snipping Tools with Build 21354, Where's the Other One?
There's a teeny-tiny little gotcha in this change worth noting.  It appears in italics in the snippet from the 21354 Announcement up above. Because it's partially obscured, I repeat that text here:
Insiders who previously did not have Snip & Sketch installed will see Snipping Tool removed after updating to this build and will have to  go and install Snip & Sketch from the Store to get it back.
Because the two tools are now conjoined and Snipping Tool is not listed independently, you MUST grab and install Snip & Sketch to continue using either or both of them. This applies universally, but only affects users who hadn't already installed Snip & Sketch.
As a determined and far-ranging Insider I installed Snip & Sketch as soon as it was made public in October 2018. Thus, a word of warning. Those who reach for Snipping Tool out of habit and haven't yet installed Snip & Sketch must now do so, to keep Snipping Tool available. Of course, this applies to Dev Channel builds only.
I'd long thought MS would simply retire Snipping Tool and forcibly move users to Snip & Sketch. Looks like they've decided to keep them both alive, but to maintain them through Snip & Sketch in the Windows Store. That's what makes this interesting and intriguing. Check it out!