I've been reading about it for months, but until Build 25126 (Dev Channel) I never saw it. But finally, I can see the Services & Subscriptions info for my logged-in MS in Settings → Accounts. Hence my claim that Settings Accounts presents subscriptions (and product) info, as shown in the lead-in graphic.
Until this finally hit my Dev Channel test PCs, I'd been accustomed to a "pointer display" like the one shown in the next screencap (from a production Windows 11 PC running Build 22000.708). It just provides a quick link to the logged in MSA's "Microsoft Account" web page, with its subscriptions, rewards and other details.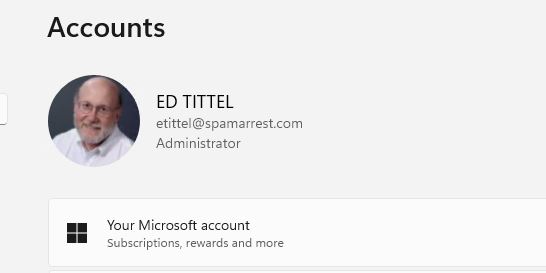 What Does Settings Accounts Presents Subscriptions Info Deliver?
It means you can see your purchased products, subscriptions and services right inside Settings, without having to jump onto the MS website. But that seems to be about it. To manage services or subscriptions, the website is the place.
For purchased products, it shows product name and purchase date. For subscriptions, it shows product name, and pending expiration/renewal date. For expired subscriptions and other such data, little reminders appear in the initial Settings Accounts screen, as shown above. It's handy, but it's neither earth-shattering nor life-changing.
Other Lesson Learned
I was reminded, while conducting this exercise, that you have to ADD other accounts. Indeed, even MSA based ones must go to the list of authorized users for them to login. Even to a a Windows 11 PC. That finally allowed me to see multiple accounts when I used the CTRL-ALT-DEL key combo to bring up the "Switch user" option on the pop-up menu.
I did this so I could check the info from the perspective of multiple accounts. I also had to (temporarily) turn off the security setting "Allow Windows Hello logon only" so I could get in to a newly-added account that didn't yet have that stuff set up.
Sigh. Live and learn (or remember), I guess…