Yesterday, MS announced a new addition to its Insider Program channel lineup. The Canary Channel, in that announcement's own words: "is going to be the place to preview platform changes that require longer-lead time before getting released to customers." Examples provided include major changes to the kernel, new APIs, and so forth. Thus, as MS adds Insider Canary Channel it should become the focus for more blue-sky, further out stuff that has until now been part of what's been playing on the Dev Channel.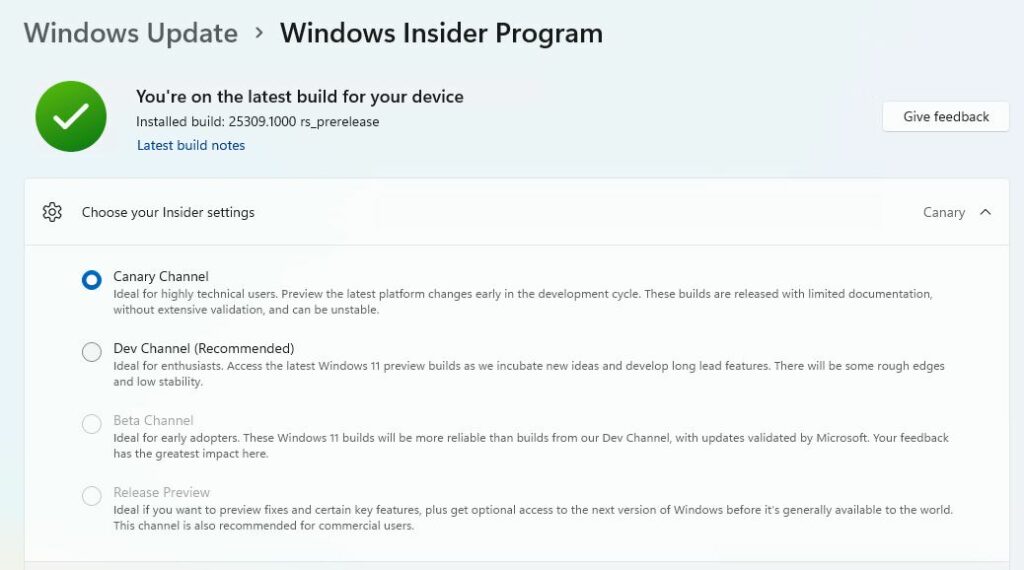 Amazing! There it is, in all its glory leading the line-up: The Canary Channel lives. [Click image for full-sized view.]
As MS Adds Insider Canary Channel, What Else?
MS shares the following Canary Channel (CC) observations in its March 6 fanfare:
CC will support preview builds for platform changes
Try-outs may appear in the CC that never ship, along with stuff that "could show up in future Windows releases" when ready
CC will bear higher build numbers than other channels, starting in the 25000 series (current Dev Channel Build = 25309)
Current Dev Channel Insiders will be moved to CC starting March 6 (announcement day)
A channel switch opportunity will be presented for those who'd like to leave the CC
CC releases will follow a "hot off the presses" approach — meaning "very little validation and documentation"
CC will offer limited documentation and will not get a blog post for every flight (only when new features appear)
Other channels will continue to get blog posts for each build
This is very interesting. It also helps me understand why I've been struggling with upgrading one of my test PCs to 25309. It is Canary now, and subject to situations where an occasional clean install may be required. I wonder if one of those occasions might be soon?