OK, then. I read a June 25 story on Neowin with great interest. It's entitled "Microsoft releases free Windows 11 virtual machines with the Moment 3 update ." If you visit the MS webpage that the story covers, you'll find VMs to download for VMWare, Hyper-V (Gen2), VirtualBox and Parallels. Inside each VM is a running instance of Windows 11 Enterprise, Visual Studio 2022 Community edition, WSL for Linux 2 (Ubuntu), Windows Terminal, with developer mode turned on. Hence my title here: "Moment 3 Dev VMs Now Available."
Moment 3 Dev VMs Now Available:
20+ GB Download
Because Hyper-V is my virtualization tool of choice, that's the version I downloaded to try out on a test PC. That download is about 21GB in size, and took me a good 4 minutes to download over a fairly fast connection.
Once you get over that hump, you'll find a .vhdx file inside the ZIP folder that's  a hefty 40+GB in size. UnZip same, and you'll be able to open that VM inside Hyper-V. I'd recommend doing so from an NVMe SSD, which for many users will mean their system drive. Thus, make sure you've got the room!
I'd also recommend deleting the ZIP file once you've extracted its contents just to save some space. If you have the expanded file, you don't need to keep the ZIPped version around. On an 8th gen 4-core i7 CPU (8650U @ 1.9 GHz) laptop, it took just under 5 minutes to unZIP the VM (4:55).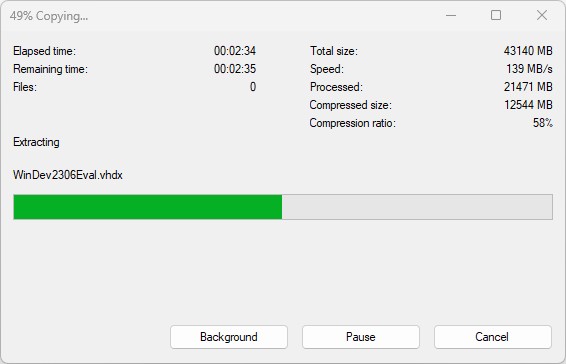 This hefty ZIP file takes a while to unpack…4:55 on my test PC.
Once you've got the .vhdx file unzipped, you simply need to create a new VM inside Hyper-V (Gen 2, 4096 MB RAM, default switch). You can then double click the VM inside Hyper-V to launch, and you'll get a complete Windows 11 instance with all the aforementioned goodies up and running. It took about 4 minutes on my Yoga X380 ThinkPad test PC to get to the desktop shown in lead-in graphic.
Other than the time it takes to download, install and start up, the process is dead easy. Try it for yourself and you'll see. The only downside is that this is an eval copy of Windows that ages out on September 23, 2023. Thus, it won't last very long!