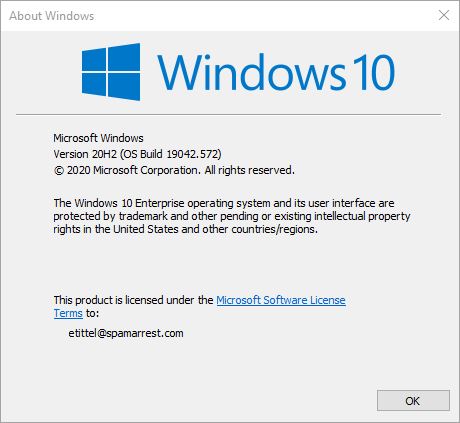 OK then, I admit it: I just flat-out got tired of waiting. It's been 20 days since 20H2 went GA, and my production PC still hadn't gotten "the offer" from Windows Update. Having long ago downloaded the ISO for 20H2 using the Media Creation Tool, I used it. The process took almost 40 minutes from start to finish. That's much longer than it took my PCs that did get "the offer" to finish the task. At least 4 times as long. Right now, I'm pausing for this blog post. Next, I'll do my usual post-upgrade cleanup, now that impatience prompts production PC forced 20H2 upgrade is done.
After Because Impatience Prompts Production PC Forced 20H2 Upgrade, Then What?
My usual post-upgrade cleanup routine of course. This consists of:
Running TheBookIsClosed/Albacore's Managed Disk Clean (mdiskclean.exe) utility to get rid of Windows.old and other stuff
Using Josh Cell's nifty (but increasingly dated) UnCleaner tool to get rid of about 310 MB of junk files.
Running Macrium Reflect to capture an image of this pristine OS update
Getting on with business as usual
Just for grins, I ran DriverStore Explorer to see if it would find any outmoded drivers. As you'd expect, everything was ship-shape. Ditto for DISM ... /analyzecomponentstore, which tells me no updates since the GA date of October 22 have left old, orphaned packages behind. And because this kind of upgrade really is like starting over, Reliability Monitor gets a clean slate (in fact, it's "dead empty" right now):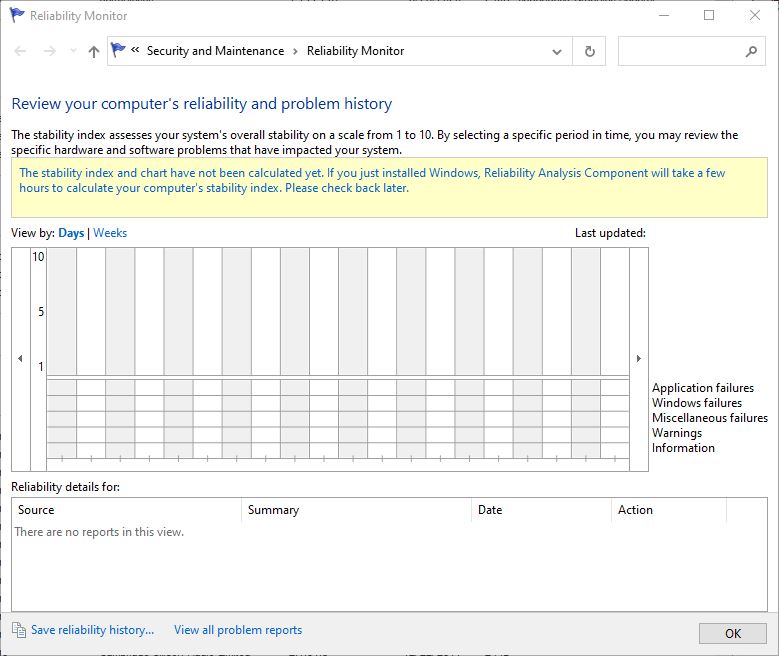 Right after a feature upgrade (which is what happens when you install from setup.exe), Reliability Monitor is devoid of data, and runs only forward from there.
[Click image for full-sized view.]
Status: 2004 to 20H2 Upgrades at Chez Tittel
This is the last and final machine to transition from 2004 to 20H2. My upgrades are done. One profound impetus for this change came from the three new Dell PCs — two review units, and one new purchase — that showed up over the past two weeks. All of those new 11th-gen PCs got "the offer" as soon as they booted up for the first time. I know that my production PC is solid and reliable and I've long since worked out any driver kinks on this machine. Seeing the Dell units transition painlessly (and incredibly quickly), I bet that the production PC would also get over the hump. But while it worked, I can't say it was fast. But all too often that's how things go here in Windows World. Stay tuned!