As I was surfing the Web earlier this week, researching a story on a typical network/system administrators anti-malware toolkit, I happened to notice that Norton Internet Security is no more. It has been replaced with Norton Security of which the 2017 version represents its latest and greatest offering. Upon trying to update my software (for which I have 5 PC seats and 1 iPhone seat) I quickly realized this wasn't something I could do for myself. So I jumped online to Norton Support chat and in short order the following things were done:
My existing Norton Internet Security subscriptions (of which there were 3) were cancelled. Immediately, I got a notification from my production desktop that the license had been revoked.
I was issued new licenses and keys for my available seats, and instructed to use the "Norton Removal Tool" first to remove all traces of NIS before installing Norton Security 2017.
I ran the tool, rebooted my system, and installed the new software. Everything went smoothly and flawlessly.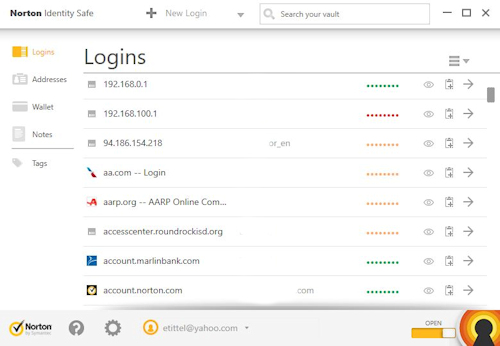 Norton Identity Safe is quick, compact, and easy to use.
Then I realized: "Holy crap! Did my Norton Identity Safe get cancelled and cleaned out along with the other old Norton stuff?" In case you don't already know, Norton Identity safe is one of any number of password management programs out there, and it comes as part of the overall Norton environment. I use it to store account and password information for over 1,000 different accounts. This number comes from to the tool itself, though it counts multiple logins to the same site as separate accounts (for example, I have multiple Twitter logins for different personae, plus guest and admin accounts for many of the websites that I write for, own, or help to operate).
One more salient bit of information: I've also been using the Norton Password Generator lately, because it generates strong passwords automatically. They can be of arbitrary length, but the default is a nice, tough 12-character string. I don't even bother to try to remember passwords any more. Because I can always get to the Norton Identity Safe on the Web from any of my PCs or mobile devices, I can always zip into that tool, search by URL, and cut'n'paste my password string (and account, if needed) into my login of choice. Extremely convenient, but an utter disaster if Identify Safe — or the data it contains — goes MIA.
Trembling with trepidation, I tried opening Identify Safe after setting up my new Norton software. Luckily enough, changing the anti-malware solution didn't have any discernable impact on my honking huge collection of URLs, accounts, and passwords. Ideally, this is the kind of thing one should think about and prepare for ahead of time. The Identity Safe even offers an export function, so you can save its contents in the form of a CSV file, and import it back into a new safe (or use it as a backup for your existing safe). I've got one of those now, too, sitting on an encrypted flash drive here at the house. Having already dodged one bullet, I feel like I should get ready for more to come!