For the first time ever, MS dropped not one but two releases into the Dev Channel yesterday. By default WU offers Dev Channel Insiders Build 20277, which continues ongoing release from the Iron build familly (FE_RELEASE). Those who take the time to check optional updates will also find access to 21277 (RS_RELEASE) as well. Certainly, when Dev Channel doubles Releases 20277 and 21277, life is bound to get more interesting!
Here's a repeat of the lead-in graphic. Alas, the page header output clips the most important info from the bottom there. Methinks that's owing to header image handling in my site's WordPress theme. I can't figure out how to hack that quickly. Thus, here it is again with the important stuff showing at the very bottom: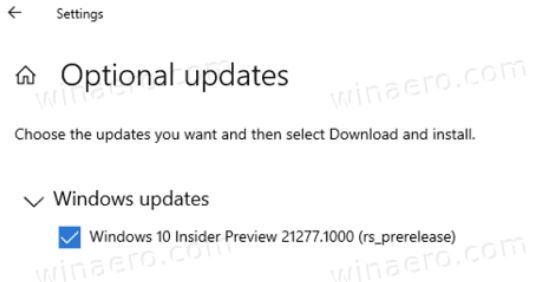 When Dev Channel Doubles Releases 20277 and 21277, Which One?
This looks like a sneaky way to reintroduce two different levels of advance testing, with 20277 targeting closer-in features, and 21277 further out. Fortunately, I've got two test machines so my response in this case is "One of each."
Unfortunately, my test PCs are configured to install automatically. By the time I was aware of the option, those PCs were already at the initial restart phase, having downloaded 20277, and gotten through the GUI install phase. That said, when I targeted 21277 on the Lenovo X220T and rebooted again, it happily started downloading that release despite having gotten halfway through the other install.
Working Through Doubled Installation
At present, both machines are working through their respective OS installs. So far, things are proceeding as normal. The X380 Yoga just finished with the post-GUI install for 20277. After a first login, it's now working through the initial OOBE ("We getting a few things ready . . ."). The whole process took less than 5 minutes following the first reboot, and it's now on the Windows 10 desktop.
Because the X220 Tablet is on Wi-Fi, it's just about finished downloading the 21277 version, but still has the entire installation to work through. I don't expect anything interesting or unusual to happen. I'm willing to let the process chunk through to completion and see how it turns out. If anything out of the ordinary pops up, I'll write a follow-up note in this blog post. Furthermore, it should be interesting to see how the two releases compare and if there are any readily visible UI or observable behavior changes between them.
Stay tuned: I'll keep you posted