My son will be 14 in a couple of days. He's definitely maturing, and developing pretty strong interests of his own. He's taken over one of my flagship PCs, in fact. We've tricked it out as something of a mid-range gaming rig. With a Fatal1ty Z97 motherboard, i7-6700K processor, 32-GB RAM, and m.2 SATA 512 GB Samsung SSD it wasn't too bad to start out with. But he added a Razer Black Widow Chroma keyboard, a Patriot V570 mouse, and an Asus GeForce GTX 1070Ti. We had to equip it with WiFi, though, because there's no ready access to wired Ethernet in his room. This led us to a USB WiFi upgrade (described in my 1/14 post, "Time Boosts (New) Wireless Hardware Throughput." A recent ISP upgrade from 300 Mbps to Gigabit meant this cheap WiFi upgrade spurs more expensive follow-up, though. Let me explain…
Why a Cheap WiFi Upgrade Spurs More Expensive Follow-up
The boy's also becoming something of a videophile. His favorite shows right now include content available online, some on NetFlix, some on Hulu. We decided to rearrange our video streams and purchase subscriptions to both. At the same time, we bumped our Internet speed as described, and removed our premium video feeds (nobody ever watched them). This freed up enough money to cover both subscriptions and the added cost of Gigabit  Internet.
On Friday, a technician came by to drop in a new Gigabit capable cable modem, and a standalone router. That router includes 801.11 1700ac WiFi support. This should've bumped the wireless speeds on my son's machines to unexplored heights. Instead, when I tested his rig it dropped from 90-110 Mbps to under 10 Mbps. It didn't matter if we used the old Asus or the new Trendnet USB dongles. However, my 802.11ac-equipped Surface Pro 3 when put on his desk, showed upload speeds over 400 Mbps. The technician's iPad clocked a respectable 140-plus Mbps, and my 6-year-old Lenovo X220 802.11n Tablet got about the same speeds, too.
That's why we concluded the issue lay with the USB dongles, not the router or its WiFi module. This was puzzling, though, because the older Arris box worked much better with those same devices. But, for whatever reason, they just didn't jibe well with the new Arris RAC2V1A router. At the technician's urging, I went back to Fry's yesterday and purchased a "real" PCI-e 802.11ac NIC with external antennae. It's an ASUS PCE-AC56, rated at up to 867 Mbps. Normally, it costs $65 but I lucked into a sale at Fry's for $25 off, and picked it up for around $45 including sales tax. Here's a product photo: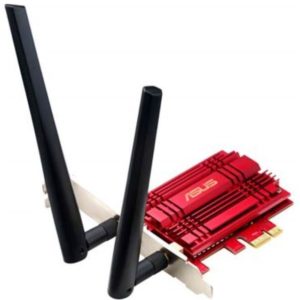 With some trepidation, I plunked down another $50 to switch from external USB to internale PCI-e WiFi access.
Fortunately, the investment turned out to be well worth it. From prior speeds of 90-100 Mbps on the older router, the new internal NIC started clocking speeds from 450 – 480 Mbps right after we rebooted the PC following its installation. I didn't realize that the switchover from USB to PCI-e would be so dramatic. Otherwise, I wouldn't have bothered spending the money on the Trendnet USB adapter in the first place. Now, however, we've got a pretty happy gamer upstairs. His wireless speeds today are better than any of our network speeds, wired or wireless, until the upgrade on Friday. Sometimes when a cheap WiFi upgrade spurs more expensive follow-up, the result is a happy ending. This, fortunately, is one of those times!