I have to laugh — or, at least, chuckle. After reading about a new Focus sessions widget at MSPowerUser I went chasing after same. I should have known it might not be as available as one might hope. It's on gradual release. Indeed, it shows up only in one of two of its possible haunts. After chasing Canary Focus sessions for a while, let me explain how I figured this out.
Chasing Canary Focus Sessions
May Yield Mixed Results
The first key to focus sessions is an update to the Clock app. It needs to get to version 11.2305.6.0 (or higher). That should come easily, courtesy of a quick hop into the Microsoft Store's Library tab, where clicking the "Get updates" button should true up a Canary PC or VM. Indeed, as you can see in the app window from Clock that appears at the head of this blog post, "Focus sessions" is the first element in its left-hand menu (also expanded to fill the right-hand pane as shown).
But a pane in a Windows 11 app is not a widget. So I went to both places where one might expect to find such a thing with mixed results:
1. To the Dev Home (Preview) app, where one can click the "+Add widget" button on its Dashboard pane to pin another widget thereto. But alas, the list of available widgets does not include "Focus session" amidst its still-limited set of offerings.
2. To the news/weather bug on the Canary task bar, where clicking on same opens a larger panel that includes this entry:

After clicking "Add them now" I *DO* see "Focus session" as an available item. Clicking same produces the Focus session widget at the top of the expanded news/weather bug window. Goody!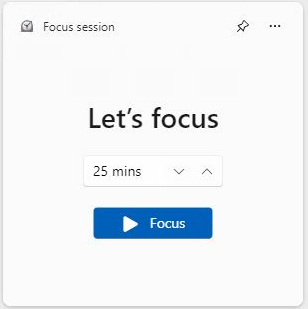 What Did I Just Learn?
Only some widgets make it onto the Dev Home (Preview) dashboard. Many more are available through the expanded news/weather bug pane. For the time being, it looks like the Focus session widget is one of the latter, but not one of the former. That's one specific lesson learned.
The bigger implication is that not all new widgets that MS announces will pop up in both places. Only some will make it into the Dev Home dashboard, while all should indeed appear through the expanded news/weather bug. Consider yourself so informed.