OK, I admit it. I'm a little bit obsessive about maintaining maximum free space on the 80 GB putative (74.5 GB actual size) Intel X25-M SSD I use as the system drive for my production PC. In my never-ending quest to keep things pared down to the absolute minimum, I will occasionally resort to cleaning up and compressing the PST files associated with Outlook on that machine. To that end, I've already moved my Archive.pst file to another drive. But today, I got into compacting my PST files (and completely cleared out the default Archive.pst that Outlook manages to create on my C: system drive, whether I want it to or not), and learned some interesting stuff along the way.
Lesson 1: Repair PST Files First, Then Compact Them!
As PST files change over time, even when you delete items permanently, file size keeps increasing because although Outlook may clear out items from PST files when you empty the "Deleted items" folder, the file space doesn't get reclaimed until you compact that file some time after purging deleted stuff. It turns out there's a tool that gets installed with MS Office called ScanPST.exe that can examine PST file structures and repair any problems it finds. It also turns out that I learned by misadventure that the bigger you permit a PST file to get, the smarter it is to run ScanPST.exe before you attempt file compaction, because even slightly corrupted PST files can take FOREVER to compact.
It turns out further that Windows' built-in search isn't very accommodating about finding ScanPST.exe for you. But that's OK: my go-to desktop search tool, Search Everything, is happy to do this job for you (and does it much, much faster than Windows Search, too).

Running ScanPST.exe is a piece of cake, though you have to know where to point it using a Browse… button to hook it up with your PST files (here again, Search Everything comes in mighty handy by helping you find all the PST files on all of your hard drives).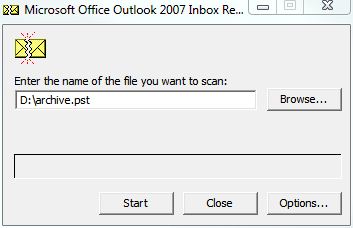 Lesson 2: Once You've Repaired, THEN You Compact
Once you've done your repairs, click on  the File | Data File Management menu options in Outlook, then select a PST file in the PST file pane, then click the Settings tab above that window. This produces the Personal Folders Outlook window where you can click the button labeled "Compact Now" to rein in file size on your PST files with vigor and abandon.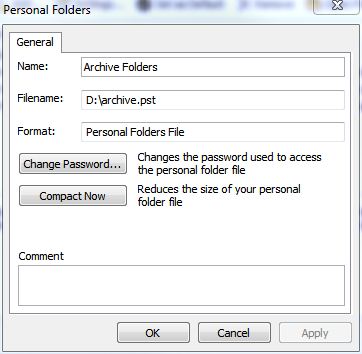 PST Clean-up Can Produce Nice Space Savings
Here are the results of my recent PST file repair and compaction binge:
PST File Repair and Compaction Results
Filename
Size: Before/After
Outlook.PST
2.2 GB/1.2 GB
D:/Archive.PST
7.8 GB /5.81 GB
C:/…/Archive.PST
977 MB / 27 MB
The bottom line is that I saved over 1 GB of disk space on my precious C: drive, and another 2 GB on my less-precious D: drive, thanks to about 10 minutes of work, and a little hurry-up learning about working with PST files. One last thing: anytime you use ScanPST.exe, it creates a .bak file from the original unrepaired version so you can always revert if something goes wrong. OTOH, because ScanPST.exe works 99-plus percent of the time (I've never had it cause any problems for me) you'll want to make a note to go back to the directories in which you ran the tool and delete the .bak files it creates a couple of days after you use it, so you can get rid of the original. Or, if you're like me and just a little paranoid, and have lots of extra disk space, you can copy the .bak file to another drive "just in case" (I have a PSTs directory on my F: drive that I use just for backups like these).