On October 22, I posted a blog here entitled "Interesting Adventures with iCloud and Outlook 2013" wherein I recounted some difficulties with making those two software components play nice with each other in the immediate aftermath of my upgrade from Windows 8.0 to 8.1 on my production machine. Having now waiting a little over two weeks for more collective wisdom to coalesce online, I've found my way to a solution of those difficulties.
Here's a recap of the Catch-22 situation I encountered following the 8.1 upgrade: When iCloud 3.0 was installed, it grabbed all of my contacts and not only copied them into the cloud (a good thing, because it made all that data available to my iPhone and iPad), but also deleted them locally from my Windows deskop. The latter turned out to be not such a good thing, because after the upgrade from 8.0 to 8.1, iCloud in Outlook would only tell me that its "data store is not available" and produced no contact data at all. With no local copy, anyone caught in this situation would be "contact-free." And for anybody who, like me, basically lives and dies by the contents of his or her Outlook Address Book/Contact list, this is not a happy state of affairs.
What with elapsed time and a variety of posts to the Apple Support Communities, and my own knowledge of Outlook, I've come up with what I think is a reasonable workaround for those facing, or already caught in, the same situation.
Back up Your Outlook Contacts!
Those facing the situation should first and foremost make a backup of their Outlook contacts (Click File, Open&Export, Import/Export, Export to a file, Outlook Data File (.pst), select Contacts in your primary e-mail folder in Outlook, click next, make an appropriate selection for handling duplicates (there shouldn't be any anyway),  then create a filename like "Contacts-backup.pst" for the "Save exported file as:" textbox, then click Finish. Outlook will cheerfully back up all your contacts into this file for you, which I'll have you use again later on.
Find the Most Current Set of Outlook Contacts
If you have already lost your contacts, your task may be somewhat trickier. You'll need to find your most current backup (you do have one, don't you) and export its Contacts folder into your Outlook client software. If you don't have one, you'll simply have to hope that my suggested repair for the "data store not available" problem will bring your iCloud contacts back to life!
Uninstall the iCloud Control Panel Item, Then Reinstall the Program
Open Control Panel, then use the Programs and Features applet to completely uninstall the iCloud applet. Next, download the iCloud applet and reinstall it afresh. Warning: at least one reboot is required, though I chose to reboot twice (once voluntarily after the uninstall, and again following the re-install as per the program's requirements).
Upload Outlook Contacts to iCloud
Open the iCloud Control Panel Item, and Click the checkbox to the left of "Contacts, Calendars and Tasks With Outlook." As this proceeds, you'll be asked if you want to copy your contacts to iCloud. If you do (and you probably should, especially if you have iDevices with which you'd like to share that info) be warned that iCloud deletes the entire local address book from Outlook after it uploads that information to your iCloud storage.
Import Your Backed-up Contacts into Outlook for Local Access
I didn't like being in a situation where lack of iCloud access (as when software issues raise their ugly heads as they did after the 8.1 upgrade, or even when not connected to the Internet as when flying or simply working away from a network link) prevents access to my address book. Outlook has no objection to restoring a local copy of your contacts even if the iCloud applet is installed, so you can use the File, Open & Export, Import/Export facility in Outlook to restore the contents of your address book into Outlook after iCloud makes that data disappear. The two stores will gradually fall out of synch after a while, so you may want to uninstall/reinstall iCloud every three or four months to keep things from getting too far out of whack. (Before you do, be sure to use Outlook to export Contacts from iCloud to a PST file so you don't lose any information along the way.)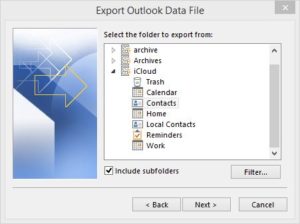 This approach works for me because I've got my address book at my disposal even without going to iCloud, though the uninstall/reinstall maneuver also restored my access to the iCloud copy of the address book as well. As long as you can access that repository, you'll want to apply updates to that copy to make them available to your other iDevices, too.
I'm not really sure what caused this problem, but I'm glad to have found a solution to the missing data store, and a workaround to keep contact info available, even when iCloud itself may not be accessible for whatever reason.