I guess you could say it's been a long time coming. With the latest Dec Channel release for Windows 11, Device Manager now defaults to the user's current default drive. That's instead of the mostly-absent A: drive (usually a Floppy disk) to which it has defaulted since time immemorial. See the new scheme as the lead-in graphic for this story, see the previous default from my Windows 10 production desktop below. Thus, we see that DevMgr now checks Windows drive for updates by default. Woo-hoo!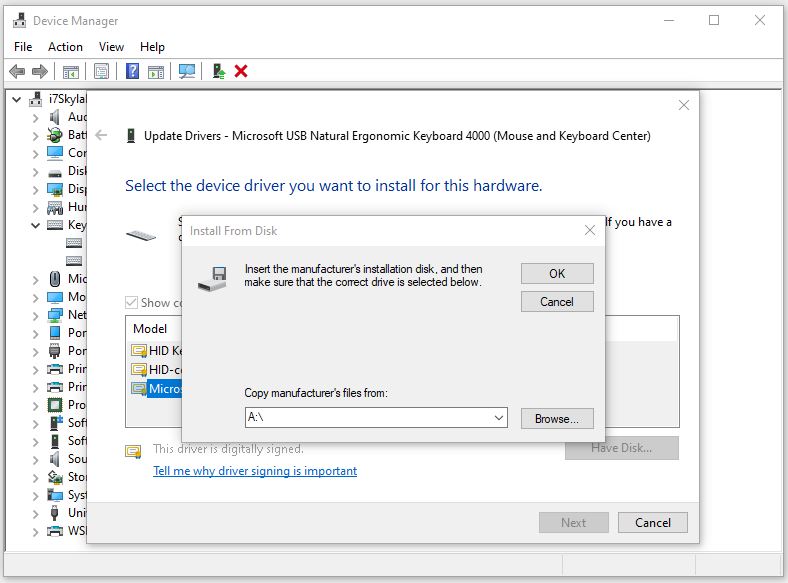 The old method goes back to earliest Windows, and defaults to drive A:. How quaint!
If DevMgr Now Checks Windows Drive for Updates, Life Gets Easier
As long as you deposit driver files of interest in the same directory as shown in the lead-in graphic on Build 22000 or higher, Device Manager will find them "automagically." (See this WindowsLatest story for more info, with a shout-out from yours truly.) It's a minor, minor change but one that could make life easier for admins and power users everywhere. Floppy disks are so … twentieth century. I still have a USB-attachable floppy drive in my "antiques closet" but I can't remember the last time I used (at least 3 years ago).
From what I can see, the default directory specification may come from MS Office. On my Dev Channel PC it comes up as:
C:\Users\etitt\OneDrive\Documents
But that directory spec doesn't show up anywhere in my environment variables, so I'm a little curious as to where and whence it originates. From experience, I know that particular Documents folder (the one inside OneDrive) is a default save folder for Office apps. Otherwise, I'm at a loss to explain it. I'll poke around and see if I can come with a good explanation. Stay tuned for that administrivia and other burning Windows 11 details. Cheers!