Through a strange series of events, I got selected to fill Dave Strom's inestimable shoes at the Dell Customer Advisory Panel (aka DellCAP) meeting in 2011. Since then, I've been a member of that sometimes stormy, sometimes sedate, but always interesting group and have provided my input and insight — such as they are — to this hard-hitting group of social media mavens, digital community activists, and consumer rights advocates.
Such memberships apparently come with some interesting privileges, too. About two weeks ago, I drove over to the Parmer Lane Dell campus in northeast Austin to pick up a brand-spanking-new XPS 13 laptop, issued to me on more-or-less permanent loan. The reason for this largesse: the DellCAP members get issued with such a machine to work and play with as they see fit, and write about as they please. So that's what I'm doing here: sharing my first impressions of this svelte but powerful laptop (current MSRP is around $999) after spending some time getting to know it, and using it for a variety of tasks.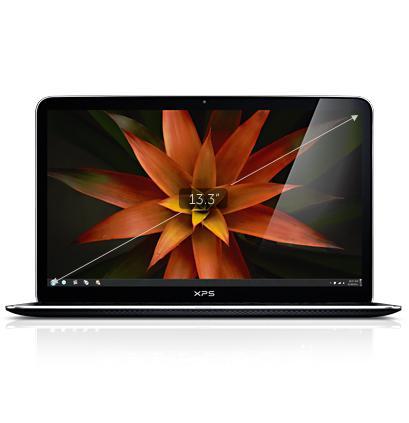 Right out of the box, there's a lot to like about this snappy little unit, which lots of reviews compare to the MacBook Air. This is a flattering but apt comparison if you ask me, as the owner of a 2010 vintage MacBook Air myself (Core 2 Duo, nVidia GT320 graphics, and 256 MB SSD). The Dell unit is about 0.5″ narrower, but almost the same depth and thickness; the Apple unit weighs 3 lbs 7.7 oz, and the Dell comes in at 2 lbs 15.1 oz. The comparison remains favorable throughout, in fact. Here's a look at the out-of-the-box Windows Experience for my XPS 13:
Battery life for the XPS 13 is all over the place, depending on what you use the unit for. Continuous WLAN and/or streaming video cuts the typical light-duty battery life of about six to six and half hours to around three to three and half hours. This prompted a nice blog post on the Official Dell Corporate Blog entitled "Maximizing Battery Life on the XPS 13 Ultrabook…" that's worth a read for those seeking to eke more minutes (or hours) from their units. Overall, battery life is not as good as a MacBook Air (one of the few areas in which the Apple unit comes off best in such a face-off) but it's not bad, either.
Intel Inside — and More!
The CPU is an Intel i5-2467M, a 1.60 GHz dual core CPU that supports hyperthreading (and shows four processor threads in various performance displays) and includes 3 MB of L3 cache, 2×256 KB of L2 cache (one for each core), and 2×32 KB for data and instructions L1 cache (one for data, the other for instructions, natch). The XPS 13 includes 4 GB of Samsung DDR3-1333 RAM (2×2048 MB modules, not upgradeable), and a zippy Samsung 128GB PM830 mSATA SSD (actual size: 119.24 GB as reported in the Windows 7  Disk Management console). The GPU is an integrated Intel HD 3000 which is fine for my laptop needs (I don't play many shoot-em-ups or RPGs on such machines) and the 1366×768 glossy Gorilla Glass-covered monitor delivers sharp, clear video as long as I don't try to work outside or in bright ambient light (in which circumstances, screen glare definitely impairs the display's visibility).
There aren't many ports on this puppy, either, thanks to its slim lines and svelte exterior. There's nothing on either the front or back edges, and here's the layout for each side of the XPS 13, from rear (hinge) to front (palm rest and touchpad):
Left: Power port (which leads off to a tiny 45W brick 3.5×1.875×1.125″), USB 3.0 port, headphone jack
Right: Mini-DisplayPort, USB 3.0 port.
The keyboard features a white back-lit layout with a standard QWERTY deck and nice-sized shift, caps lock, and tab keys at left, and a big backspace, enter, and shift key at right. The top row features half-sized function keys (F1-F12) plus mute, insert/print screen, and delete keys. The far lower right also offers half-sized arrow keys that double as home (left), page up (up), page down (down), and end (right) keys. Far lower left offers Ctrl, Fn, the Windows, and Alt keys with a big spacebar to the left of another Alt and Ctrl key (and then the arrow keys). Typing on the keyboard is a generally positive experience, and requires less time for me to adjust to than some of my other notebook/laptop PCs, some of which — especially my HP HDX9203 "Dragon" — feature what can only be called "wonky" keyboard layouts. For routine e-mail, light typing, and so forth, this keyboard is quite nice to use.
More on the Zippin' Samsung SSD
The Samsung PM830 mSATA SSD produces some tasty benchmark values in CrystalDiskMark, and is certainly the fastest laptop SSD I've had occasion to work with (the rest of mine are mostly SATA II, and by no means real screamers, unlike some of my desktop units which include an Intel 520 and an OCZ Vertex-4). As my earlier Windows Experience screen cap clearly shows, the disk is the fastest thing about this system.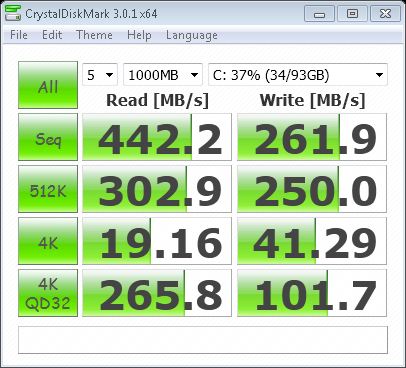 Fresh from the factory, and…
The XPS 13 showed up with little or no bloatware. The next sequence of screencaps shows my XPS13 with its full complement of software. Of what you see in that list of 55 programs, I installed 17 of them: 7-Zip, Adobe Flash and Reader, CPU-Z, Dell Driver Download Manager, Everything, FileZilla, Image Resizer Powertoy, Intel ProSet Wireless stuff (2), Intel WiDi, ISO Recorder, MS Office (2), Secunia PSI, System Requirements Lab for Intel, and WinDirStat. The .NET Framework 4 elements are probably my doing as well. At any rate, this is not what I would call "a load of crapware" as the following list will attest.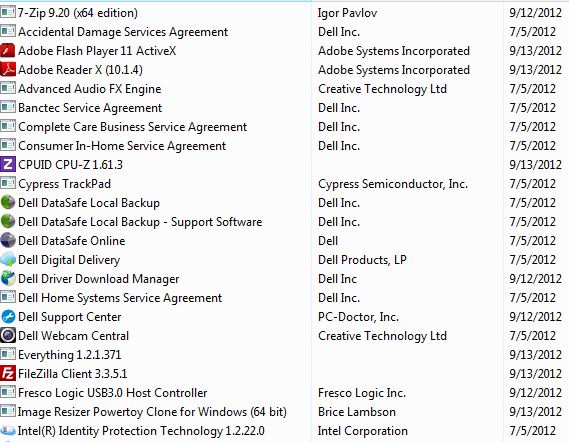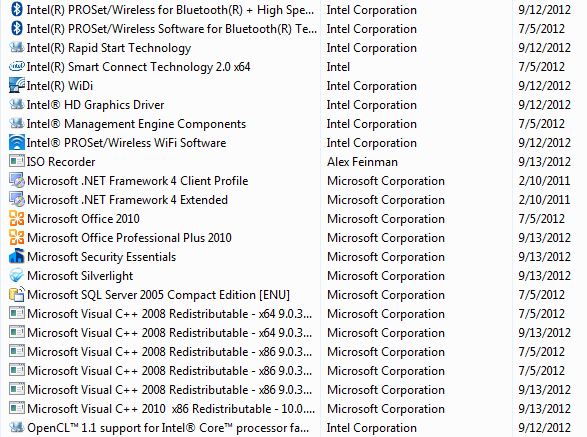 The only Dell element that's earned a "grrrr" reaction from me so far is its Dell DataSafe Local Backup software: it really doesn't work as you'd want it to unless you purchase a $39/year "upgrade." With Windows 7 offering perfectly usable image and file backup through the built-in Backup and Restore facility, I didn't really see any compelling reason to use the program, nor to pay the upgrade fee. I am fooling around with the Dell DataSafe Online, but with only 2GB of free storage, so far I'm just using it for such stuff as I actually keep in the folders associated with my User identity/account name (18.95 MB, according to the most recent reading).
I also decided to upgrade my system from Windows 7 Home Premium to the Ultimate edition (thanks to my MSDN subscription, this comes as part of that $1,000 a year or so payment, along with most of my other various Microsoft licenses). I'm not sure this was "absolutely necessary" but I like to use the Remote Desktop Connection (and RDP) to remote into my laptops and other systems, and Windows 7 Home Premium doesn't support such use. I guess that makes it a "nice-to-have convenience" for which I'm appropriately grateful.
What to Make of Dell's XPS 13
At $999 for the model I've got, the XPS is no cheap notebook/laptop. It's a real ultrabook, with the small size, light heft, and snazzy good looks and accoutrements you'd expect for that kind of money. It's very usable, friendly, and powerful enough to satisfy all but the most power-hungry programmers, system admins, and heavy-duty tech types. As ultrabooks go, the XPS 13 offers a nice enough price/performance ratio to be worth purchasing, and it makes a great road machine, too.