It's often said that everything in the IT industry comes and goes in cycles. I have to agree with this notion: after working in the industry for over 30 years now, I've seen several waves of client/server, thin client/fat client, remote, and distributed technologies and APIs come and go (remember "diskless workstations?" "set-top boxes?" "videotex?").
The same ebb and flow also applies to IT certification, which I got involved with initially as a temporary member of the training department at Excelan back in 1988, and then again almost ten years later in 1996 as the Windows NT 4.0 wave crested and ran. In the heady days from 1997 to 2000, it seemed like certification was an unbeatable and guaranteed ticket to IT success. But I was also there when the bottom fell out after 9/11 and have watched that same wave pull back further and further until IT certification seemed no more important or relevant to finding work than any other checkbox sorts of attributes (degree, experience, and technical expertise).
In the last year, however, I've noticed that the wave seems to have hit its trough, and is now starting to come back in. What makes me say this? Several things:
For about the last 12 months, I've started seeing more action on and attention to my certifiction oriented blog for TechTarget "IT Career JumpStart." This includes both more comments and e-mails from direct visitors, and more links to that material from third parties around the Web.

Last March, after four months of intense content revision from and new content development for a Web-ified version of my book IT Certification Success Exam Cram, I launched a new blog at PearsonITCertification.com called "Ed Tittel IT Certification Success." This too is seeing action, attracting interest, and generating questions and comments from IT professional readers.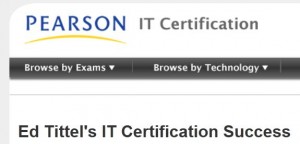 Right now, I'm in negotiation with a new Website being launched as a spin-off from a well-known Internet brand for PC hardware enthusiasts. I'm in the process of writing 15-20 general IT certification articles for them including a slew of IT certification landscape portraits, information about IT cert training providers, and best practices for IT professionals to ponder and (hopefully) follow as and when they start chasing one or more credentials to help them boost their careers. I'm told there may also be another blog in it for me, too, when this site goes live later this year.
This kind of thing doesn't happen by accident, and big organizations in the IT portal, professional publications, and computing industry niches don't just decide to start tracking IT certifications on a whim. There seems to be an emerging consensus that once again professional training and development is coming back into vogue, and that IT certification may help IT pros stand out from a pack of otherwise remarkably similar job applicants. As the US and global economies are testing new lows right now (S&P announced it was downgrading US debt from AAA to AA+ status on Friday, and global markets have been in a tailspin for the last 10 days or so as I write this), this may be a glimmer of hope that presages an inevitable turnaround and renascence for Information Technology.
At least, I sure hope so! In an era when Certification Magazine and CertCities.com have lapsed into more-or-less moribund shells of their former selves, and GoCertify.com remains one of the few active and vibrant IT Certification information portals still hanging on for dear life, it's nice to experience a bit of fresh life and air being breathed back into the IT certification business. Cross your fingers, and hope for the best that this really is a sign of better times ahead, and not just desperate flailing among organizations still fighting for survival. It's not just potentially good news for IT certification guys like me, it's also potentially good news for everybody in the IT industry — especially, those hoping to get back to work in the field, or who will be entering the job market in the relatively near future.