The Asus Eee PC represents a new type of machine on the notebook landscape: it's neither a conventional, full sized budget notebook with a 12-15″ screen, nor is it a so-called ultra-mobile PC (UMPC): a relatively expensive but diminutive PC with a high-resolution 7″ display. Rather the Asus EEE stakes out its own relatively new ground on the budget notebook landscape as a machine with UMPC dimensions, very low cost, but also, low electrical power consumption and low-end computing power and capability.
A primary market for the Asus Eee is the educational market, where its low cost is a very strong positive, and where a relative lack of computing power need not be too detrimental to effective use and associated learning. As I write this story (mid-April 2008), the Eee PC comes either with Linux or Windows XP installed, in the configurations shown in Table 1. Some Eee units come with a "Surf" designation (check out these specifications). These models come with either a 2, 4, or 8B GB solid state disk (SDD) drive that functions as its hard disk, and may be configured with anywhere from 0.5 to 2.0 GB of RAM (though the older Asus models include 0.5 GB, and newer ones 1.0 GB) from the factory.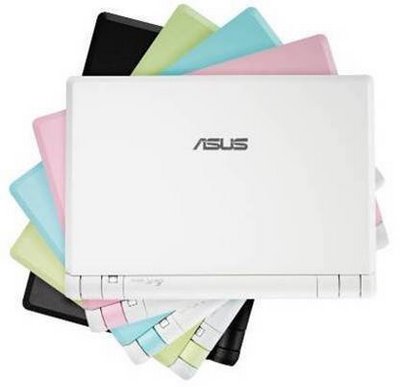 There's also a secure digital (SD) flash memory slot that provides the ability to add some much-needed storage space to the machine. Asus indicates the Eee will be available in a number of pastel colors, including "Blush pink," "Lush Green," and "Sky Blue," but at the moment it is available for purchase only in "Pure white" (moe of a pearl color, really) and "galaxy black." The precise make and model of the unit I reviewed is Eee PC 4G 701, which includes a rear hatch with access to the unit's single SODIMM slot and a WLAN interface (the Surf models apparently lack this hatch). As I format this story, in fact, Asus has just announced a new 900 model for the Eee PC (check out this review at ZDNet). The 900 features a bigger (8.9″) 1024×600 display, a higher-res Webcam, more RAM and SSD storage, and a bigger and improved touchpad. Wish I'd had one to review!
---
Table 1: Eee PC Configurations
SSD
OS
Model
RAM
Price range
2G
Linux
701
0.5GB
$300-350
4G
Linux
701
0.5GB
$350-400
8G
Linux
701
0.5GB
$500-5505
2G
XP Home
701
0.5GB
$350-400
4G
XP Home
701
0.5GB
$400-500
8G
XP Home
701
0.5GB
Not available
12G
XP Home
900
1.0GB
$550-600
20G
Linux
900
1.0GB
$650-700
Note: 700 model prices were obtained using various online comparison shopping tools on 4/11/2008; I couldn't find any 8G Windows models available for sale, and pricing for 900 models is based on converting from British pounds to dollars, though this will surely change by the time you read this story.
For machines with more RAM installed, buyers can expect to pay $50 more than the preceding prices for 2.0 GB total RAM, simply because they can pick up a 2 GB SODIMM of the right speed for $50-60. As far as memory goes, I recommend adding more memory if possible, because it gives the OS more room in which to work, especially when that OS is Windows XP (Linux is less hampered by less memory, but users will still obtain noticeably better performance if they increase the RAM available to the system). Before you buy a SODIMM, check your unit: only the non-Surf 8GB and 4GB 701 models are suitable for "field upgrade" (I can't comment on the 900 models but suspect they also have the hatch)–and this just happened to include the unit that Asus sent me, so I can say from personal inspection the upgrade would be very easy).
That said, Asus covers one of the screws on the memory access panel with a sticker whose removal will void your warranty, so if you decide to upgrade your system's RAM you can kiss your warranty goodbye (this also holds if you want to install a 3G WAN card in the Eee as well because it's only accessible through this same panel).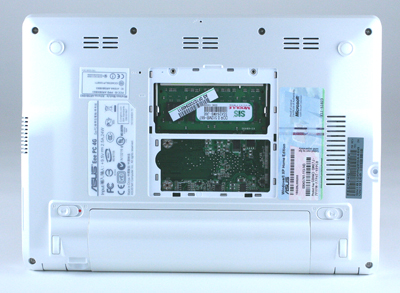 ---
Specifications and Remarks
Table 2 presents most of the important characteristics for the Eee model we examined: a 4G with 0.5 GB RAM and Windows XP Home installed. See the discussion following the table for my reactions and analysis.
Table 2: Eee 701 PC Specifications
Item
Data
Notes/Remarks
Display
7″ / 178mm
800×480 resolution
Storage
2-8GB SSD
Price increases with SSD size
CPU
Intel Celeron M 353
900 MHz, 512 KB L2 Cache, 400 MHz FSB
Chipset
Intel Mobile 910GML Express
Memory & PCI Express controller
RAM
1 slot
PC2-5300 (667 MHz) SODIMM
Graphics
Intel GMA 900
basic embedded graphics controller
Audio
RealTek ALC662
5.1 chipset, mic in, headphone out, built-in speakers & mic
Network (wired)
10/100 Ethernet
RJ-45 connector
Network (wireless)
802.11 b/g Wireless Ethernet
3G WAN card slot also inside RAM hatch
USB 2.0
3 ports total
1 Left, 2 Right side
Camera
WebCam
Built into display deck: 640×480 30fps
Battery
Li-ion
4-cell 5200mAh, battery life up to 3.5 hrs, small 9.5V/22W AC adapter
Dimensions
8.86″ x 6.46″ x 0.846-1.46″ / 225mm x 164mm x 21.5mm
Weight
No battery (PC only)
24.8 oz / 705 g
Weight
Battery
7.9 oz / 225 g
Weight
Total (PC + battery)
32.7 oz / 930 g
Weight
AC adapter
5.9 oz/ 170 g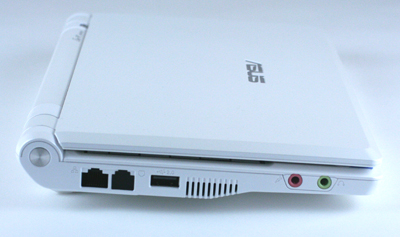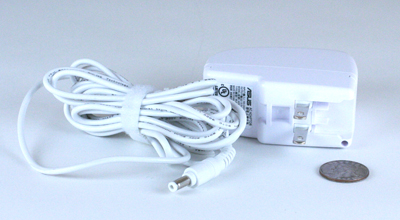 Remarks and Observations
Certainly, nobody can fault the Eee PC for being too small or too light. The battery pack adds the only real bulk there is to this system, increasing its thickness from 0.846″ (21.5 mm) to 1.46″ (37.1 mm). But because the battery is cleverly designed to lift the back of the unit up ever so slightly, it also serves to improve keyboard access and screen angle.
I quickly became fond of the Eee PC as a light, highly portable tool for surfing the Web and reading e-mail. But anytime I had to use the keyboard, I quickly found myself frustrated. The good news about the Eee's compact size is something of liability where the keyboard is concerned: the keyboard deck measures a scant 8.25″ (210 mm) from side to side, and is only 3.1875″ (81 mm) from top to bottom. This means that all the keys are small, but also that the keyboard layout is nonstandard, and (my least favorite) that the right-hand shift key is much smaller (and further offset down and to the right) than my fingers are used to. I was never able to touch type at anything like normal speed on this keyboard, and had to keep looking at the right shift key to be sure of striking it accurately.
Asus also included a small USB mouse and a 4GB SD card with the unit they sent me for review, both of which I quickly learned to appreciate. The touchpad area is relatively tiny: 1.8125″ x 1.1875″ (46mm x 30.2mm) and not terribly comfortable to use. I tried it a few times, then switched exclusively to an external mouse thereafter (I actually have a smaller freebie I got from a technical society for joining up a few years ago that I like even better than the larger-size model Asus included with the unit).
With a screen resolution of 800×480, the Eee maps to more standard 800×600 resolution by forcing its users to move the mouse cursor to slide a smaller display window over a larger display area. This takes a little getting used to, and caused me some amusing glitches when first setting the machine up (the Windows XP "Next" button wasn't visible to advance the setup process without first tinkering with the screen to make it display, but this was quickly resolved). For heavy reading or research this machine could be a little taxing for its users, but for casual Web surfing and basic e-mail it's pretty darn handy. I've also seldom had the pleasure of carrying a machine around that was as light and easy to forget I was carrying inside a standard briefcase. Asus provides a handy neoprene carrying pouch for the Eee that lets you pad the unit slightly, and it's easy to find room for the tiny AC adapter and an external mouse inside a briefcase as well. Now, if it were only as easy to schlep an add-on keyboard (even the Targus foldable costs $50 and is perpetually out of stock)!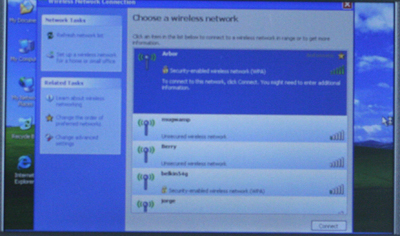 ---
Working with the Eee
Asus doesn't include much by way of software with the Window XP version of this unit (at such a low price, however, I don't see this as a flaw). You get MS Works, Adobe Reader, Outlook Express, and the Microsoft PowerPoint viewer, and that's about it. In my opinion, this machine works best for those already used to working with Web clients (such as Google Documents, Gmail, and other Web-based software) and isn't really terribly well-suited as a full-fledged desktop publishing or image manipulation platform. I was able to install a DivX viewer with little difficulty and view streaming video, and used Windows Media Player and the NetFlix platform to view some video. As you'd expect on a small, low-resolution screen the picture quality was very basic, but it was still viewable. Listening to music through Media Player worked better with earbuds than through the built-in speakers, but playback was smooth and quite listenable. I'd give the Eee an adequate, but acceptable rating as a personal entertainment device (though you'll want to spring $60 for a 16 GB SD card if you want to take more than one movie with you for disconnected viewing while traveling).
Asus rates battery life for the Eee at up to 3.5 hours. In actual use, depending on how we used the machine, we were able to get between 2:55 and 3:20 out of the machine. If you don't need wireless networking, you can use Control Panel to disable the wireless interface and push the battery up more toward the high side (unless you're lucky enough to fly on those rare carriers that offer in-flight 802.11g, you probably won't need your Wi-Fi in the air anyway).
I don't think I could write a long story on this machine without plugging in a USB keyboard (I managed to hack this story out on the Eee, but it slowed my typing speed to about half of what passes for normal for me). I suspect a lot of adults will feel the same, but this shouldn't be much of an impediment for more dimunitive users. My 4 year-old fell in love with the machine right away, and demanded to be allowed to play with it. I'm pleased to say he was able to enjoy some simple games I found online and didn't seem to be hampered in any way while using the Eee.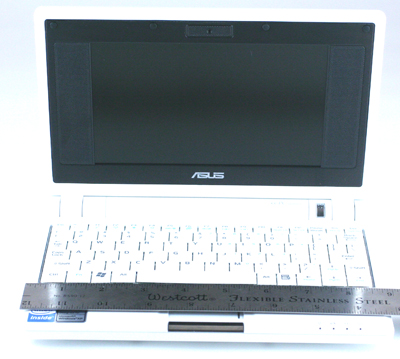 For the money, the Eee offers excellent value, terrific portability, and reasonable performance (as long as you don't ask the machine to do too much for you, or try to do too much multi-tasking). It's a great road machine for those who travel occasionally, or those who want something small to take with them for Web and email access away from their primary desktops. I certainly can't recommend it as a primary desktop or as a heavy-duty notebook, but that's not what Asus intends it to be anyway. I also purchased an OLPC (One Laptop Per Child) notebook for my son recently, and for about twice the cost ($400 for the Eee versus $200 for the OLPC), the Eee offers quite a bit more capability and usability than the OLPC provides.
Conclusions and Recommendations
If you're looking for a tiny but usable notebook for light-duty use while traveling or away from your desk, the Eee offers a nice combination of ultra-portability, low cost, support for standard peripherals, and reasonable extensibility. If you want to equip an offspring with a sturdy, reasonably capable PC for them to take to school or use for homework, the Eee is also pretty compelling for that purpose, too.
For my own part, I'd recommend upgrading the Eee to 1.0 or 2.0 GB of RAM (for under $60 this is a no-brainer). I'd also urge spending the same amount on a 16 GB SD flash device (which lets you keep your files and non-essential apps on removable storage) to increase your working space on the machine. An external mouse is an absolute must, and if you really need to produce large amounts of text, you'll probably be more comfortable if you plug in a full-size USB keyboard. This whole shebang won't cost you more than $150 if you need to keep costs down, though you could spend up to $250 you wanted a wireless desktop set instead of wired mouse and keyboard.